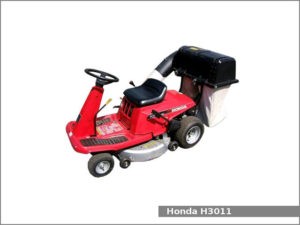 The Honda H3011 is a riding lawn mower with small vertical general-purpose Honda GXV340K1 engine (337 cc, 20.6 cu-in) and 760 mm (30 in.) deck with belt drive that is adjustable in six increments for cutting heights between 25 mm (1 in.) and 90 mm (3.5 in).
The Honda GXV340K1 motor is an air-cooled single-cylinder four-stroke gasoline engine with vertical PTO shaft. An 82.0 mm (3.23 in) cylinder bore and 64.0 mm (2.5 in) piston stroke give the engine a total of 337 cc (20.6 cu-in) of displacement. Compression ratio rating is 7.7:1. The motor produces 11 HP (8.2 kW) at 3,600 rpm and 23.0 Nm (2.3 kg·m, 17.0 ft·lb) of torque at 2,500 rpm.
The Honda H3011 is available in two versions:
H3011/H3011SA – model with Mechanical Auto-clutch Transmission (MAT);
H3011H/H3011HSA – model with Hydrostatic Transmission (HST);
The gear type transmission uses parallel shaft, constant mesh and sliding key. The gear transmission has five forward gears from 2.4 km/h to 7.9 km/h (1.5 mph to 4.9 mph) and one reverse gear 2.8 km/h (1.7 mph).
The hydrostatic transmission. The transmissiom has three approximate ground speeds: Reverse from 0 to 2.7 km/h (0-1.7 mph), Mowing from 0 to 5.3 km/h (0-3.3 mph) and Transport from 5.3 to 7.2 km/h (3.2-5.3 mph)
Honda H3011 specifications
General Specifications
Model
Honda H3011 / H3011H
Length
H3011: 1550 mm (61.0 in)
H3011H: 1545 mm (60.8 in)
Width
H3011: 1070 mm (42.1 in)
H3011H: 1050 mm (41.3 in)
Height
1000 mm (39.4 in)
Wheel base
1100 mm (43.3 in.)
Dry weight
H3011: 162.0 kg (364.0 lbs)
H3011H: 178.0 kg (400.0 lbs)
Front tires size
11×4.0-5
Front tires pressure
98 kPa (1.0 kg/cm2, 14 psi)
Rear tires size
16×6.5-8
Rear tires pressure
69 kPa (0.7 kg/cm2, 10 psi)
Fuel tank capacity
2.5 l (0.66 US gal., 0.55 Imp gal.)
Battery
12V-22AH
Engine
Engine model
Honda GXV340 K1
Displacement
337 cm3 (20.6 cu-in)
Bore x stroke
82.0 X 64.0 mm (3.23 x 2.5 in)
Max. horsepower
11.0 HP (8.2 kW) at 3600 rpm
Max. torque
23.0 Nm (2.3 kg·m, 17.0 ft·lb) at 2,500 rpm
Carburetor
Horizontal type, butterfly valve
Cooling system
Forced-air
Ignition system
Transistorized magneto ignition
Lubricating system
Pressure and splash
Starting system
Electric starter
Stoping system
Ignition primary circuit ground
Fuel used
Unleaded gasoline (octane number 86 or higher)
Spark plug
NGK: BPR5ES
NIPPONDENSO: W16EPR-U
Oil type
Honda 4-stroke or an equivalent (SH or SJ)
Recommended oil
SAE 10W-30
Oil capacity
1.1 L (1.2 US gal, 1.0 lmp qt)
Manual transmission
Groung speeds
First: 2.4 km/h (1.5 mph)
Second: 3.7 km/h (2.3 mph)
Third: 5.7 km/h (3.5 mph)
Fourth: 7.0 km/h (4.3 mph)
Fifth: 7.9 km/h (4.9 mph)
Reverse: 2.8 km/h (1.7 mph)
Hydrostatic type transmission
Groung speeds
Reverse: 2.7 km/h (1.7 mph)
Mowing: 5.3 km/h (3.3 mph)
Transport: 7.6 km/h (4.7 mph)
Mower Deck
Deck size
760 mm (30 in.)
Height range
25-90 mm (1-3.5 in.)